Glued laminated timber from BSH
ABOUT WOOD —
Building material with high resistance to deformation and cracks
---
BSH wood, i.e. glued laminated timber, is an industrially produced construction material for load-bearing structures with a strength up to 80% better than traditional construction timber. In the production process, individual boards are dried in a dryer then placed on top of each other and glued together. The girders produced can be straight or curved - according to the customer's needs.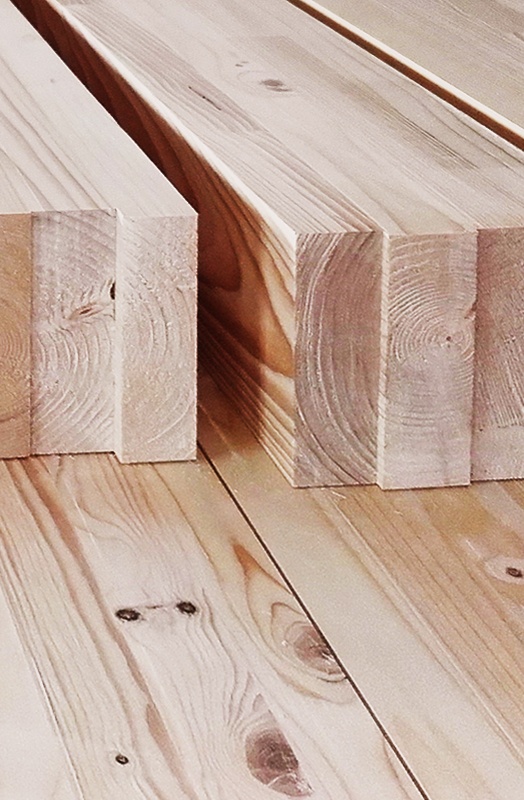 Glued laminated timber offered by Best Timber Polska, thanks to its industrial processing, is a building material with high resistance to deformation and cracks. The parts made of glued laminated timber must meet the requirements of construction supervision and are subject to regular quality control of wooden structural elements according to Standards EN 14080.
Glued laminated timber is particularly suitable for heavily loaded elements with large spans and high requirements in terms of resistance to deformation and aesthetics.
WHAT IT IS SUITABLE FOR —
BSH wood is suitable if you need it for: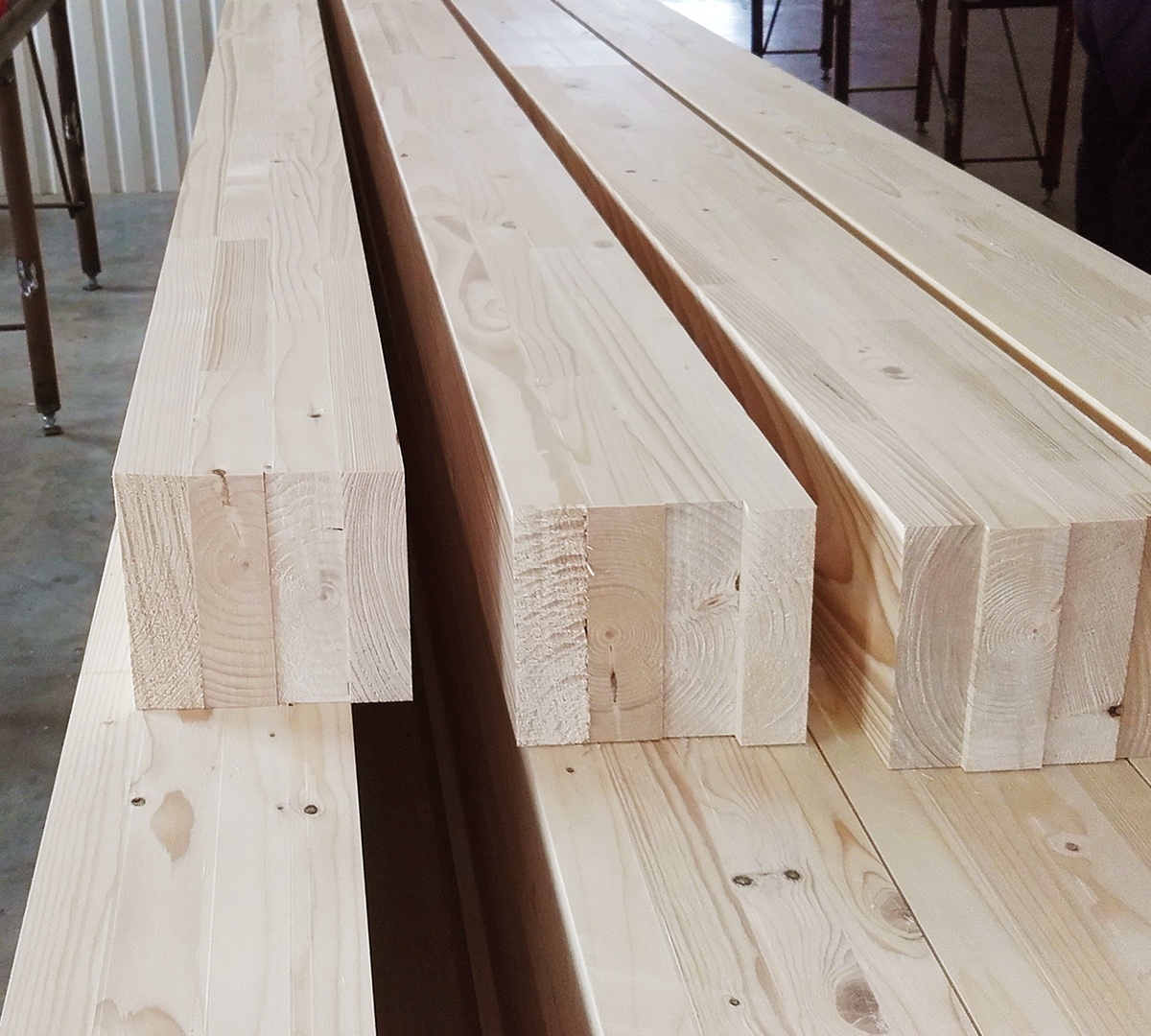 01 —
Construction of single-family houses and elements of smaller architecture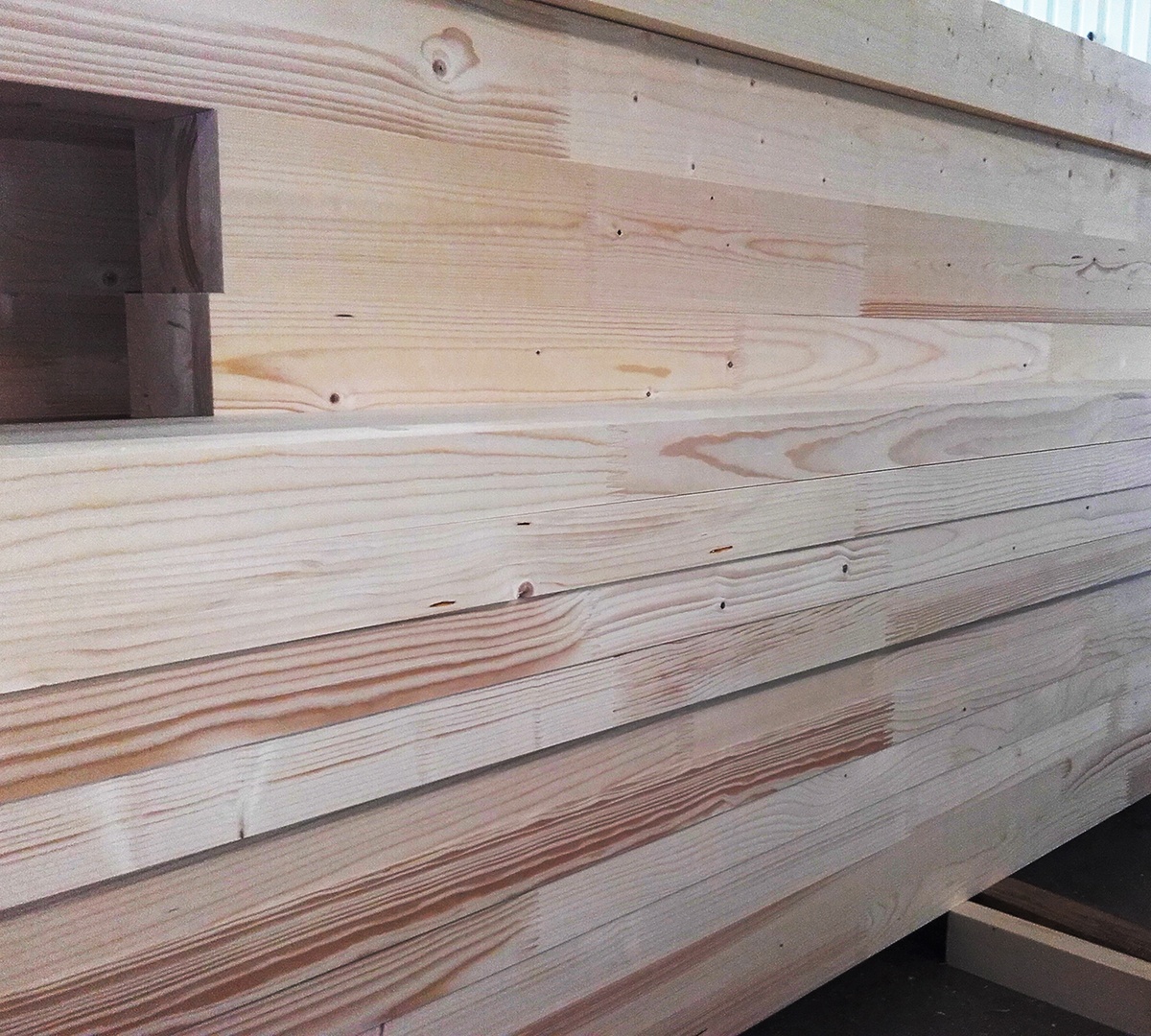 03 —
Structures with unique shapes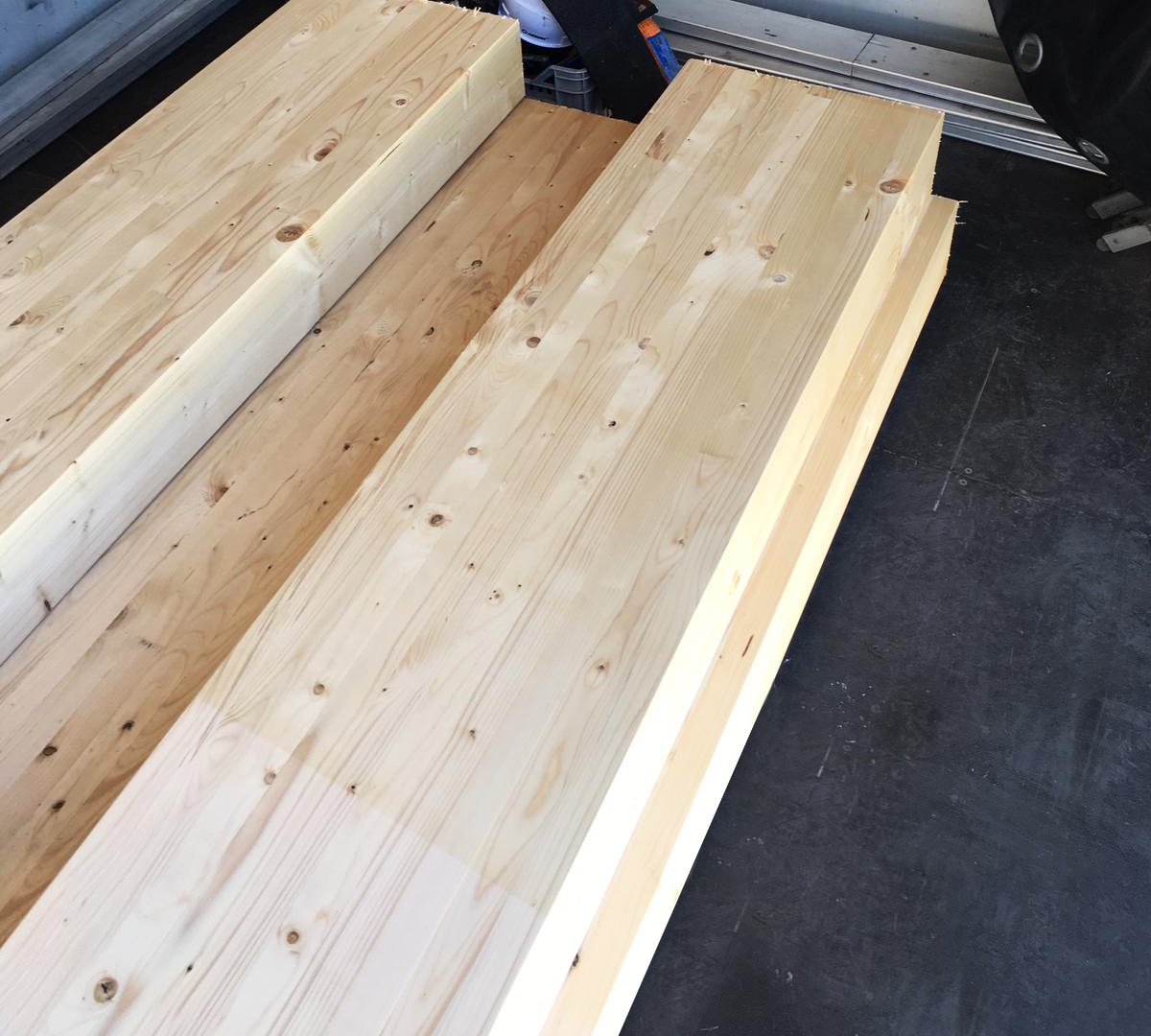 04 —
Roofing for terraces, gardens, gazebos, carports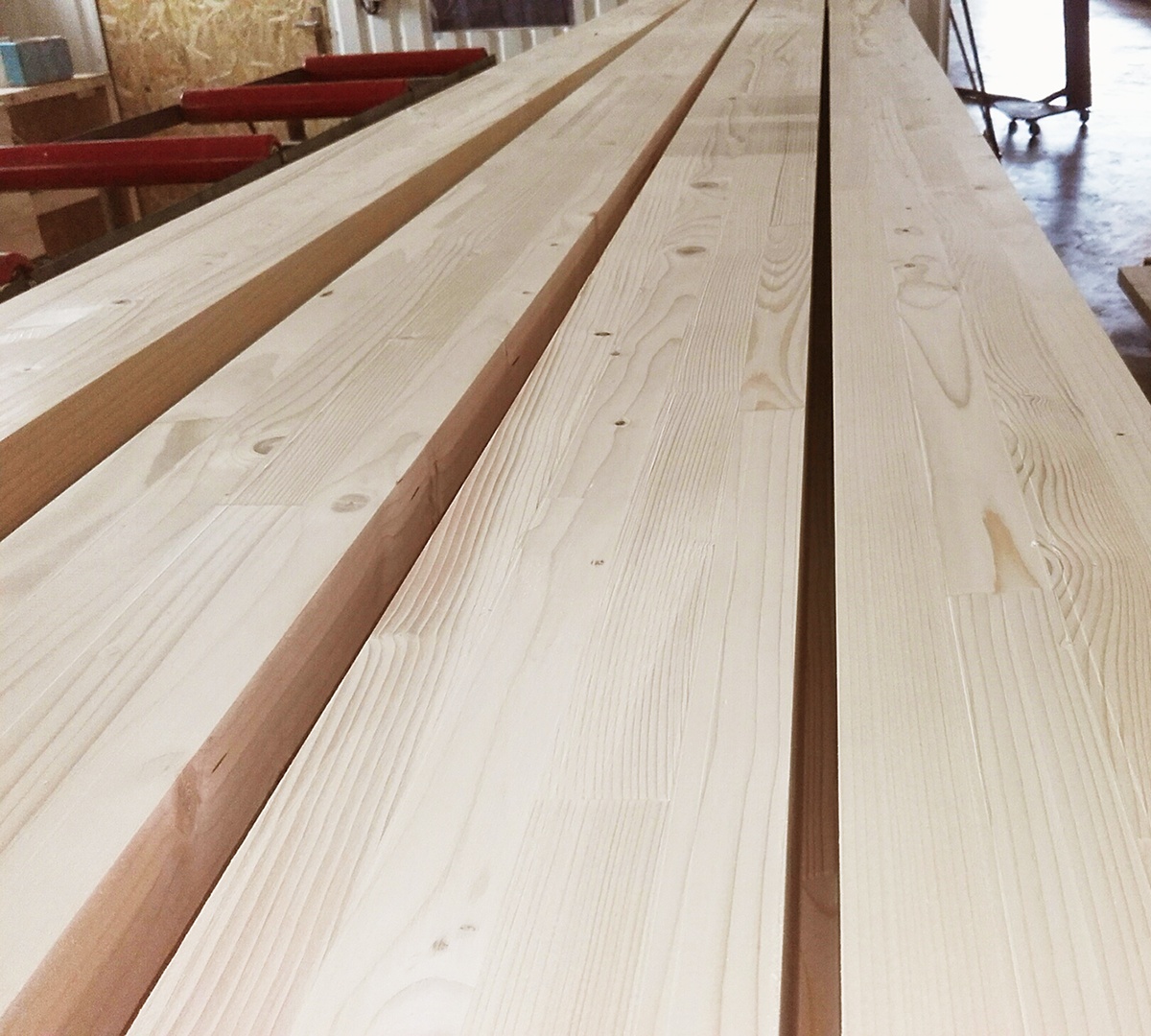 FIND OUT MORE —
Find out more about BSH wood:
| | |
| --- | --- |
| Strength | GL24 | GL28 | GL30 | GL32* |
| Type of wood | Spruce |
| Produced according to the standard | EN14080 |
| Dampness | 9 -12% |
| Sorted by standards | EN 14081-3 |
| The thickness of the lamellas | do 45mm |
| Surface | 4-sided planed, bevelled edges, class Si and NSi |
| Burning rate | 0,7mm/min |
| Emission category | E1 in accordance with EN 14080 |
| Reaction to fire | D-s2, d0 |
| Dimensional tolerance height | height ± 2mm | thickness ± 2mm | length ± 0.1% |
| Swelling and Shrinkage level | length: 0.01 - 0.02% per 1% change | radius: 0.19% for 1% change | tangent: 0.34% for 1% change |
| Heat conduction λ | 0.13 W/(mK) |
| Steam diffusion resistance factor µ | 40 |
Construction wood that's resistant to damage
If you need a solid, durable material resistant to cracking and deformation, BSH wood will definitely meet your expectations. The material is created using innovative technologies. It can be used wherever aesthetic values ​​are essential while maintaining high technical parameters. BSH is often an alternative to concrete, steel and other commonly known building materials. Spruce wood, from which BSH is made, guarantees the possibility of using it in many construction, carpentry and finishing works. It is used in many types of construction including single-family houses.
With BSH, you can make smaller architectural elements, roof structures, roofing of terraces, gardens, gazebos or carports, as well as other structures with atypical shapes, due to the simple processing of it by hand or with the use of tools. BSH wood is characterized by low shrinkage, therefore it does not require chemical impregnation, which makes it perfect to use in ecological construction. It is available in two visual classes: NSI (Invisible Elements) and SI (Visible Decorative Elements). Your expectations will definitely be met by its aesthetic beauty. Why? Because spruce is an ideal material for both construction and finishing.
The benefits you will get by choosing wood
BSH glued timber has many noticeable advantages that make its use in construction and finishing works so popular. First of all, it is a very aesthetic material, with no visible cracks. The structure of the wood is therefore perfect, it does not require much processing. Spruce is easy to work with both manually and with tools, and in addition, it is characterized by high flexibility, so forming it into unusual shapes is not a major problem. Real construction wonders can be created from BSH wood, whilst at the same time being very resistant to high temperatures.
In the event of a fire, BSH wood does not burn quickly and will gradually burn from the outside, creating a charred surface preventing the fire from spreading further. Therefore, houses and structures built of this material are very safe. It has an advantage over many construction materials, and above all over solid wood, due to its resistance to damage. BSH wood can be used in many ways in construction and finishing works, and most importantly, maintaining this material is not expensive. The wood itself is cheaper than other construction materials, so investing in them is very profitable.
Noticeable cost savings
BSH Glued laminated timber has many advantages, but the most important is the possibility of purchasing it at a very attractive price, and its processing is neither expensive nor time-consuming. The elements that are made of it are assembled quickly and efficiently, so the construction company will not spend much time on the construction site, which will also minimize labour costs. The material does not need to be heat dried, no additional moisture is formed during construction, and no final curing is required. The low dead weight of BSH wood additionally reduces installation costs and affects the dimensions of the substructure. By building a house from this material, you can reduce heating costs in the long run. The building is warmer and heat losses are minimal.
Glued laminated timber can be used without any problems in load-bearing structures with high loads, and thanks to its natural appearance, there is no need to use additional products to obtain the desired aesthetic values. BSH elements meet stringent requirements and standards, and most importantly, have very good technical parameters. With proper protection, the wood does not need to be protected with chemicals, which makes it a very ecological material that meets the expectations of people who are close to nature and the environment. BSH wood is a response to the needs of people looking for cheap and very good quality building materials.
AVAILABLE SIZES —
What sizes are KVH timber available in?
| | |
| --- | --- |
| Type of wood | Spruce, Pine*, Larch*, Oak* |
| Quality | Si - visual, NSi - structural not visual |
| Strength | GL24c/h, GL28c/h, GL30c/h*, GL32c/h* |
| Thickness | 60*/ 80/ 100/ 120/ 140/ 160/ 180/ 200/ 220/ 240/ 260*/ 280*mm |
| Height | od 100 - 1.250mm |
| Length | od 4 - 22m |
WE OFFER WOOD WITH A WARRANTY —
Guarantee of quality
We are the only company on the market to offer a guarantee on our wood. What does this mean for you?
If it happens that the wood that we provide you will not be in accordance with its intended use or does not meet current construction standards, we immediately replace it with a new one or refund your money - the decision is yours.
---
Why do we offer such a guarantee?
We are confident in what we offer and deliver. We approach each order individually and meet the requirements of our clients with full professionalism.
ADDITIONAL BENEFITS OF BSH WOOD —
What distinguishes BSH wood?

---
High quality and durability

---
High resistance to fire

---
Possibility of bending and shaping

---
It absorbs sounds and loud vibrations

---
Resistance to difficult weather conditions

---
Fair price adequate to quality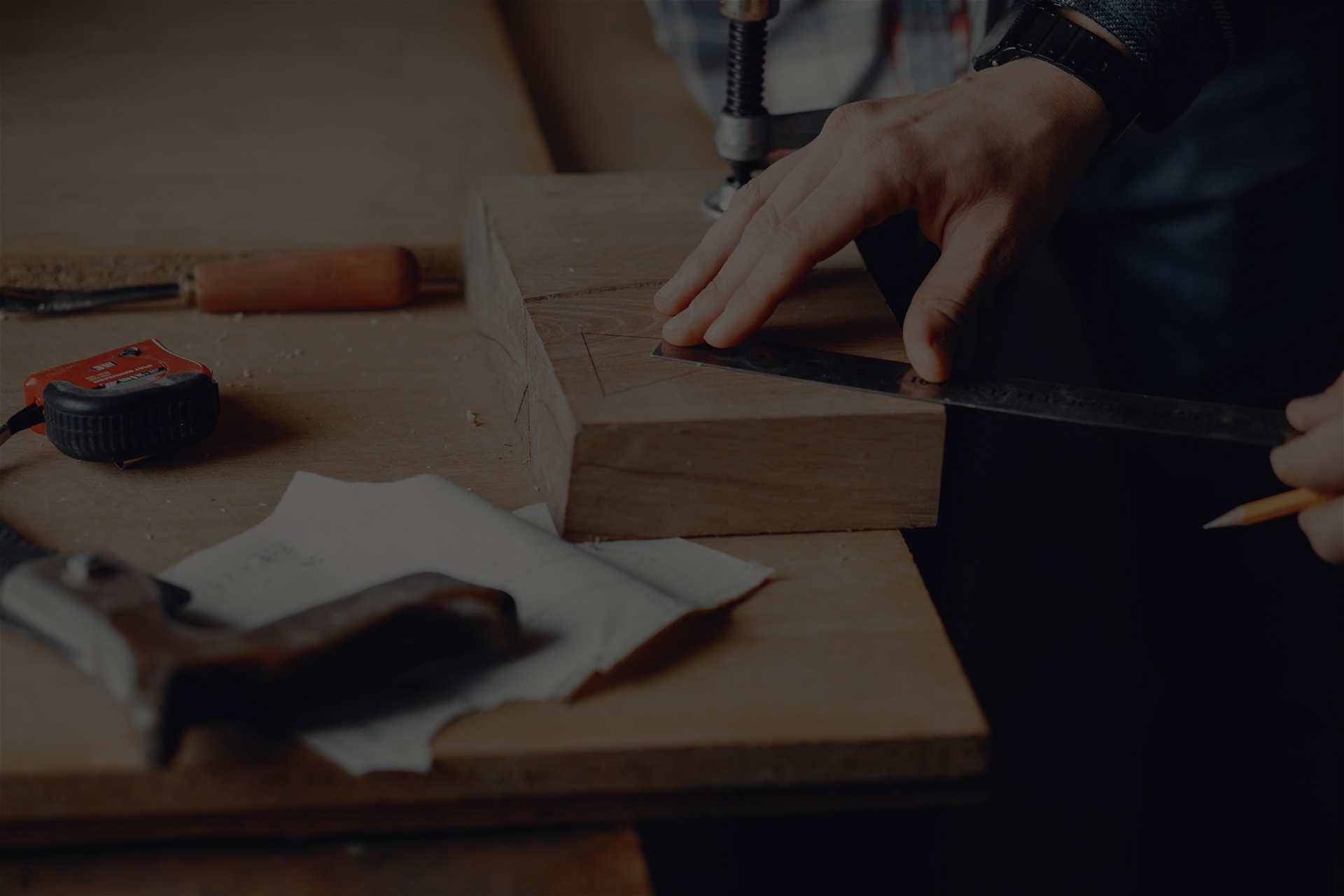 WHY IS IT WORTH —
Why is it worth choosing wood from Best Timber Polska?
You will save money
Thanks to the automated optimization system for cutting to size, there is no waste, a professional preparation, a shorter assembly time, no need for additional chemical impregnation and with a timely delivery you can save up to 20%.
You do not worry about transport
Transporting wood can be problematic. However, you don't have to worry about it. We will deliver your wood wherever you need it to a construction site throughout the country. It is packed and protected on 6 sides against weather conditions and possible damage during transport.
No time is wasted
You no longer have to look for the right wood in sawmills, warehouses and take care of its proper storage on the construction site. You can order wood 1-2 weeks before the assembly of the structure, and we will deliver it when you need it.
Do you have any questions?
Write us a message using the contact form below or contact one of our specialists directly.
---
Contact
ul. Generała Karola Kniaziewicza 129/2,
87-100 Toruń
---
---